Campany Profile
2012 LondonOlympic and the paralympic
Games' OfficialLanyards Manufacturer with more than 20 years of experience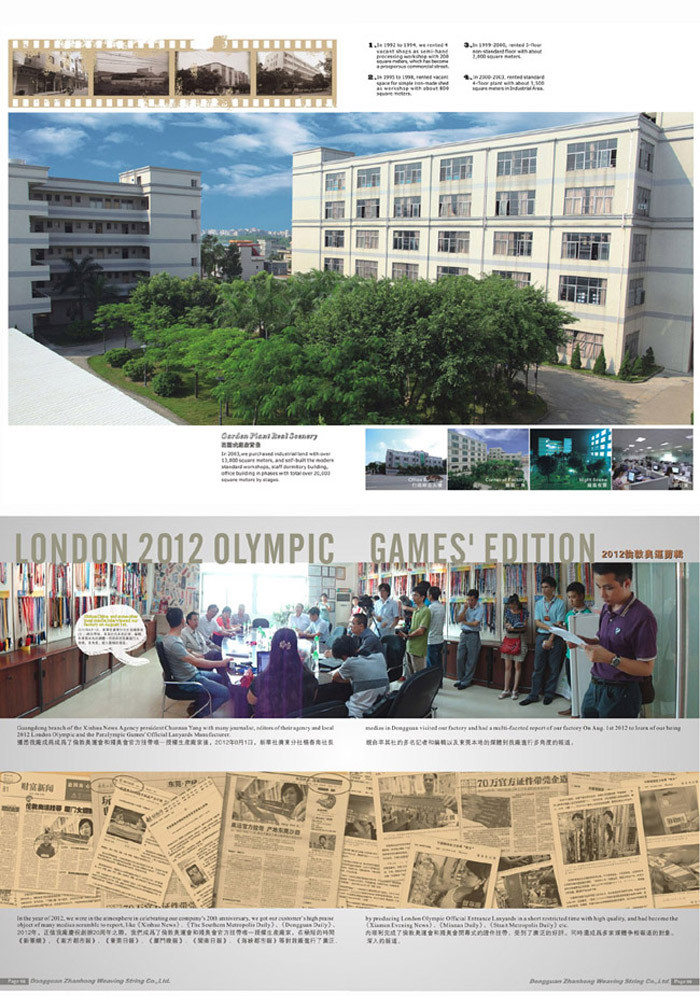 Dongguan ZhanhongWeaving String Co, Ltd., established in 1992, is located in the famousmanufacturing base Dongguan China. We specialize in a variety of lanyards, luggagebelts, pet leashes, shoelaces, fashion belts and other straps extendingproducts. In order to stuggle against the epidemic and solve the mask shortage problem, we have changed to produce virus prevention materials (such as masks etc) since March of 2020. Entitled to handling export and import, European Union, North Americaand Japan are our main markets.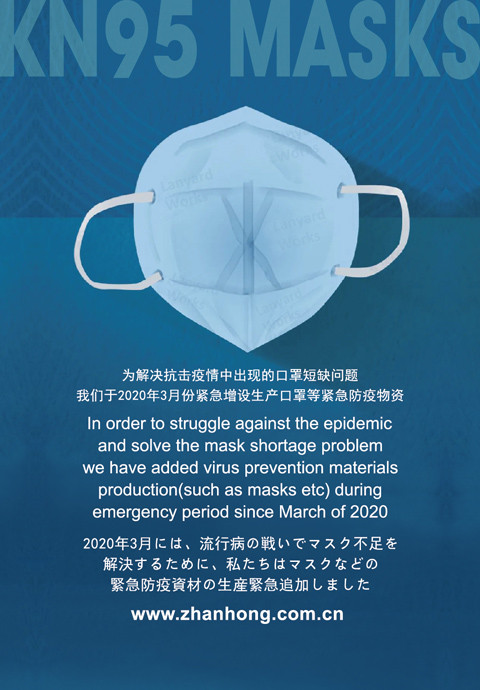 In 2003, we purchasedthe land of 13,000 square meters to have our self-built modern standardworkshop with more than 20,000 square meters. After nearly 20 years effortsthrough 3 generations, we became one of the largest lanyards & shoelacesmanufacturers in China and with fixes assets of 50 million RMB. We have our owndyeing, weaving, embroidering, silk-printing, heat-transferring and assemblydepartment. All manufacturing processes are done on site at our own factory,allowing us to better control the quality at every stage, therefore toguarantee our overall production efficiency.
We owned an experienced, highly skilled and stableteam of sales, production and administration after years of continuouscultivation and construction. With adequate and reasonable staffingarrangement, we provide our customers with timely and thoughtful servicealways. Meanwhile, we have strong technical force and sense of innovation,focusing on R&D of products, has obtained more than 10 patents, and thepatent products in the market share is continuously improving, moreover,quality of our products keep the leading level in the same filed.
We passed BSCI, COCA-COLA, UNIVERSAL and ISO9001:2015audit. Superior quality, stylish designs, competitive price and perfect servicewon us honorable customers. We are 2012 London Olympic and Paralympic Games' officiallanyards sole manufacturer. We also work with the top-class enterprises such asDisney, Universal, Studios, Coca-cola, Vodafone, L'OREAL, Porsche, Samsung,Hello-Kitty, Google, Microsoft, Intel, Cannon, Tencent, Baidu, Huawei, etc.
We will always strive to provide you the mostcompetitive products no matter you have just started or have already been aleader in this field. Small straps carry your brand. Details determine successor failure, quality connect our future. Through our small straps, we will makeevery one of our customers, each of your brands to be more outstanding in theworld as you expect!