《Xinhua News》 Report about our factory.
July 31 of 2012,time: 23:03 Source: XinhuaNetReporter: Chunnan Yang,Yi Chen, Gailei Wang
65% Chartered products of LondonOlympics were manufactured in China," Made in China"occupies the industrial chain end in the world.
XinhuaNet in Guangzhou on July 31 (Reporter: Chunnan Yang, YiChen,Gailei Wang) "Although 700 thousand string products are small, theyrepresent the image of 'Made in China',we daren't have the slightest careless about the quality of the products."Theproducts of Dongguan Zhanhong Weaving String Co.,Ltd which is located in Shatian Town,Dongguan city were utilized by tensof thousands of athletes and staff of London Olympics.
On July 31, the reporter had an interview with Dongguan which has thereputation of "World's factory", many excellent products of "Made in China" are flowingout of Dongguan city continuously and reaching around the world.
CEO (Jieming Chen) ofDongguan Zhanhong Weaving String Co.,Ltd said:"We undertook the mission ofproducing 700 thousand strings for Olympics and Paralympics. A small silkstring contains various cumbersome processes, such as purchasing rawsilk,bleaching and dyeing, weaving, printing, sewing, cutting, levelling etc ".
Most proud thing forJieming Chen is the company has obtained orders from the agent authorized by OlympicOrganizing Committee. " The company doesn't depend on price advantage to defeatthe competitors, but the strict quality management and mass productionadvantages etc." In past years, Zhanhong has supplied the products for SouthAfrica World Cup, Germany World Cup etc, with good reputation."
Estimated by London Olympic OrganizingCommittee, 65% Chartered products ofLondon Olympics were manufactured in China,19% were from Turkey, 4%were from the Philippines.In addition, India, Vietnam, Indonesia,Thailand, Pakistan, Germany, Poland etc also produced someChartered products of Olympics.
However, an assemblyman of USA publishedsome remarks about rejecting " Made in China", causing the discontents ofnumerous enterprises in Dongguan city ( developed area) and their staff whichbelong to export-oriented economy. Recently several assemblymen of Republicansand Democrats of USA launched an attack towards Olympic Committee of USAtogether, opposed that the delegation of USA weared the Olympic suits of "Madein China" to attend the Olympic Games.
Deputy president Yaofei Xiao of InternationalEconomic and Trade Research Center of Guangdong University of Foreign Studiesconsidered, with the speeded integration of world's economy, the degree ofinterdependence among different economies is deepening gradually. " among allthe Chinesegarments which were attacked, Chinese enterprises became official suppliersafter strict bidding & screening,undertook the work of apparel manufacturing sector, but the products' designswere from American companies, which represented the mode of labor division forworld's manufacture."
Regarding the attack of USA for " Made in China", Mingxun Li, Representativeof Human secret department of Samsung SDICo., Ltd. of Dongguan surprisedly said : " Incredible, hard to understand!"
He took up a style of Samsung mobiletelephone, opened the rear case to take out the battery and show to thereporter :" for this style of Samsung intelligent mobile telephone of Gallaxyseries, LED touch screen is manufactured in Dongguan city of Guangdongprovince, the case is manufactured in Taiwan, other parts are from South Koreanand Vietnam etc areas, lastly it finishes the assembly in Huizhou city ofGuangdong province or in Tianjin city. In my view, 'Made in China'undertakes the important link of the industrial chain of ' World'smanufacture'."
This enterprise which lies in High-tech Industrial Park, Houjie town, Dongguancity is the largest manufacturer of CRT in the world at present. Nowadaysnearly 98% high-end AM-OLED products in the market are from this enterprise.
Moreover Apple MobileTelephone which is very popular all over the world is manufactured by Chinese Foxconn, and its brand is from USA. So in acertain sense, rejecting "Made in China"means rejecting "Made in USA".During the period some scholars showed their position and couldn't understandthe resentment at " Made in China"in USA.They considered, in past 30 years, the policy of Reform and Opening made China convert from original closed country intoan open country, while USAfalls back regarding freedom trade.
Jianbo Fang, deputy director of Foreign Trade Bureau of Dongguan Citysaid: " 'Made in Dongguan'even ' Made in China' only is a kind of processingtrade, so in general there's a view in theory of China that nowadays globalmanufacture firstly is a kind of trade appearance, then due to traderelationship, convert global manufacture into common manufacture of severalcountries, likewise ' Made in China' also is converted into global manufacture.Therefore we can say, rejecting ' Made in China' means rejecting freedomtrade!"
However, China doesn'twin high profits from the value chain although " Made in China" gains recognitionall over the world. Yaofei Xiao said, large export country doesn't mean strongtrade country. " We should know, many foreign companies only assemble the partsin China,which has low added value in profit chain, but the core technology, appearancedesign and materials are from foreign countries, which have high addedvalue."
" It's necessary for economic division that ' Made in China' comesinto the global economic integration. Chinahas labor force management and deployment etc advantages, as well as flexible employmentsystem and good technical support etc ' Soft Powers', and China necessarilybecomes an important and indispensable part of global trade." Yaofei Xiao said.
(XinhuaNet)
Please see the relevant report of "XinhuaNet":
http://finance.qq.com/a/20120801/001147.htm?pgv_ref=aio2012&ptlang=2052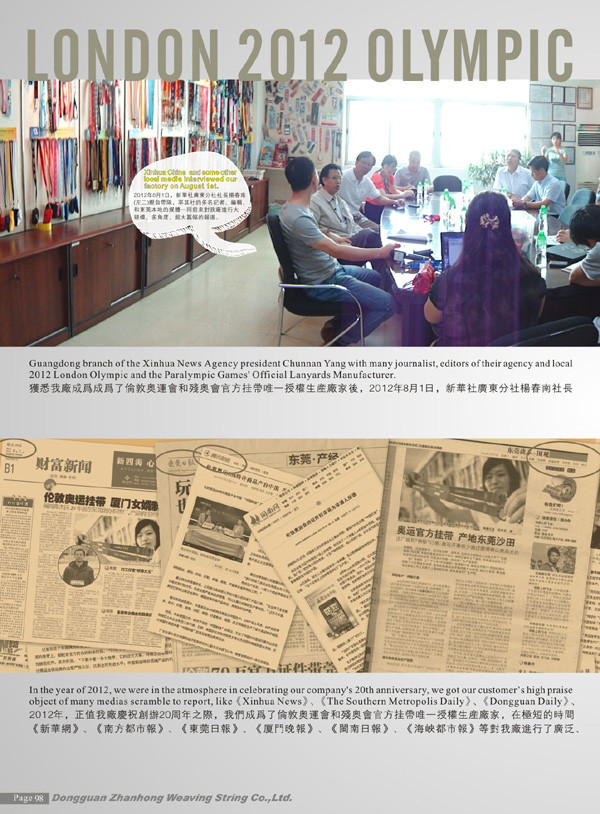 《新华网》:
伦敦奥运65%特许商品产自中国 美多位议员发难
2012年07月31日23:03新华网杨春南 陈冀 王凯蕾
伦敦奥运65%特许商品产自中国 "中国制造"仅居世界产业链末端
新华网广州7月31日电(记者 杨春南 陈冀 王凯蕾)"70万根吊带产品虽小,却代表着'中国制造'的形象,我们对产品的质量不敢有半点马虎。"位于东莞沙田镇的展宏织带有限公司,其产品被伦敦奥运会数以万计的运动员和工作人员使用。
7月31日,记者在有着"世界工厂"之称的东莞采访,许多"中国制造"的优秀产品正从这里源源不断地走向世界各地。
展宏织带有限公司董事长陈杰民说:"我们承担了奥运会及残奥会共70万根吊带的生产任务。一根小小的丝带里包含了采购原丝、漂染、织造、印刷、车缝、裁剪、平整等多道繁琐的工序。"
最让陈杰民得意的是,公司通过奥组委认可的代理公司获得了产品订单。"企业并不是依靠价格优势打败对手,而是依靠严格的品质管理,可以从事大规模的生产等优势。"过去几年里,展宏已承接过南非世界杯、德国世界杯等产品供应,具有较好的声誉。
据伦敦奥组委预计,本届奥运会65%的特许商品在中国生产,19%产自土耳其,4%产自菲律宾。此外,印度、越南、印尼、泰国、巴基斯坦、德国、波兰等国也生产了部分奥运特许商品。
然而,来自美国议员一段关于拒绝"中国制造"的言论,引发了中国外向型经济最发达的东莞地区众多企业和员工的不满。日前,美国多位共和党和民主党议员共同向美国奥委会发难,反对美国代表团身着"中国制造"的奥运套装出席奥运会。
广东外语外贸大学国际经济贸易研究中心副主任肖鹞飞认为,随着世界经济一体化的提速、不同经济体之间的相互依赖程度正在逐步加深,"在被发难的中国服装产品中,中国企业通过严格的招标筛选方式成为供应商,承担服装制造部分的工作,而产品的设计却来自于美国公司,这恰体现了世界制造的分工模式"。
谈及美国对"中国制造"的发难,东莞三星视界有限公司人秘部负责人李明薰也十分诧异地说:"不可思议,难以理解!"
他随手拿起一款三星手机,打开后壳取出电池向记者展示:"这款三星GALLAXY系列的智能手机,LED触屏在广东东莞生产、外壳由台湾企业生产、其他零部件则来自于韩国和越南等地区,最后在广东惠州或天津组装完工。在我看来,'中国制造'承载了'世界制造'产业链条上一个重要的环节。"
这家位于东莞厚街镇高新科技工业园的企业是目前世界上最大的显像管生产商。如今市场上接近98%的高端显示屏AM-OLED产品都来自于该企业。
今天风靡全球的苹果手机就由中国富士康所生产,而其品牌来自美国。所以从一定意义上说,拒绝"中国制造"就是反对"美国制造"。此间相关学者表示,对美国国内出现的抵触"中国制造"的情绪很不理解。他们认为,过去30年,改革开放让中国由原来封闭的国家蜕变为开放的国度,而今天,美国却在自由贸易的问题上倒退了。
东莞市外经贸局副局长方见波说:"'东莞制造'甚至'中国制造'都是以加工贸易方式实现的,所以,中国理论界普遍认为,今天的全球生产首先是一种贸易现象,又由于贸易关系,把世界制造变成各国的共同制造,同样'中国制造'也变成了世界制造。所以,拒绝'中国制造'就是在拒绝自由贸易!"他说。
不过,尽管"中国制造"获得了世界认可,但却并没有获得价值链条上的高端利润。肖鹞飞说,贸易出口大国并不等于贸易强国,"我们应该看到的是,很多外资企业把组装部分放在中国,而这是利润率链条上附加值比较低的部分,其核心的技术以及外形设计、材料等都是国外生产,拿走了高附加值部分"。
"'中国制造'融入全球经济一体化是经济大分工的必然要求,中国对劳动力管理和调配的优势,以及弹性的用工制度和良好的技术配套等'软实力',成为全球贸易不可或缺的重要组成部分。"肖鹞飞说。
(新华网)
以下链接是《新华网》对我厂的报道
http://finance.qq.com/a/20120801/001147.htm?pgv_ref=aio2012&ptlang=2052